yeah, we're definitely on vacation
… and having a great time.
During a round-trip that started on April 15th, and ended on May 1st, Gunlaug and I spent quite a few days on the road. While I will have to come back to the places we stayed at and the people we met there in other postings, on this page I am mainly focusing on the time we spent by ourselves on the road.
While most tourists tend to aim their cameras at the wide views, tourist-magnets and celebrities, I tend to aim mine at ordinary things and people.
After all: most of the time there is just a bunch of ordinary things and people around where we go, and in my mind all the ordinary we get to see is what makes a trip really interesting.
As the first destination on our trip was a steel guitar show in Mt.Vernon, IL, we aimed at getting there as quickly as possible.
I am quite comfortable with driving on the US highways, and with frequent stops at Rest Areas along the route, whether it is day or night doesn't matter on what I call "transport stretches". Traffic on the roads we followed for the most part wasn't very heavy either, so it was an easy ride north.
(update: 10.may.2015)The 15th annual Southern Illinois Steel Guitar Show was a good show by the way. Both Gunlaug and I enjoyed it a lot.
When the three day show ended, we drove north towards the Chicago area to visit one of Gunlaug's new-found relatives. I had the GPS set to avoid toll-roads, so we had a quiet ride and got to see quite a bit of country­side on our way up.
chicago traffic…
We visited the Chicago Botanical Gardens (a real treat for Gunlaug) while staying up there, and I was perfectly OK with not having to drive in the area myself during rush-hours.
(update: 14.may.2015) While staying with Jim and Carol in Bolingbrook, IL, I only had to move my car back and forth a bit now and then so our hosts could get their cars in and out of the driveway as needed.
Beyond that we just relaxed and had a good time for a few days.
heading east…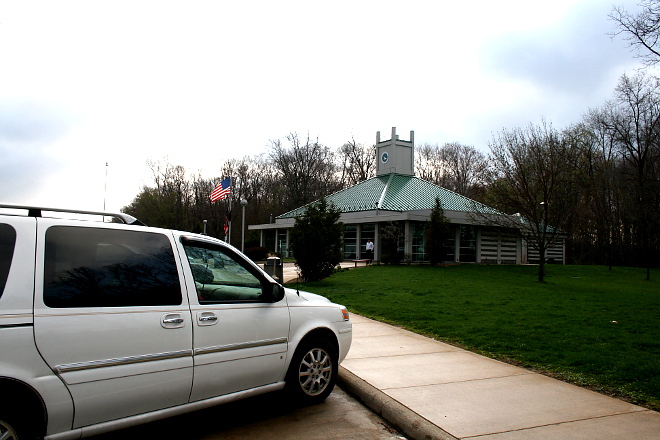 A few pictures from the stretch between Chicago and New York. Miles and miles of farmland along the roads we took.
When stopping at Rest Areas you are never alone. Big trucks keep the US running, and those drivers need rest too from time to time.
The in-itself quite interesting trip east, was made perfect by the sandwiches and brownies Carol sent along.
I tell you: you don't know what a good brownie is, until you have tasted some of Carol's.


Destination reached: an old house in Pearl River, NY.

Gunlaug often commented that "we are in the woods" when we arrived at various places, and that comment is under­stand­able since there is so much forest everywhere – not least in the New York / New England area.
heading further east…
Most hills are covered with trees in the New York / New England area, making the landscape look soft. Spring was late this year, so not much green leaves to see anywhere on the road from New York to Rhode Island.

The only time my car acted up, was on this stretch from New York to Rhode Island. The internal alert-signal (for open doors and such) was sounding "ding-ding-ding" the entire trip, making it hard to focus on roads and traffic. Typical computer-glitch in modern cars – very irritating.
Nothing wrong with the car itself, but I could not get the noise-problem fixed until we had the car parked at our new destination in Jamestown, RI.
short stops in new england…
When leaving James­town going south-west again, we made detours and short stops at Watch Hill, RI, and at Mystic Harbor, CT.
Cold wind and cloudy in the area that day, so we soon got back onto the interstate and drove on westwards.
heading south-west…
Mainly blue skies over quiet highways, that is the conditions I prefer. Plenty of that on our two-day drive south-west from the New York area towards Gallatin, TN.
we simply love rest areas…
Being well rested is important when driving long distances, and, as usual, we made good use of Rest Areas along the various routes.
Plenty space in the back of my car, and the pictures show Gunlaug taking a nap at the Rest Area east of "the cut" through Sideling Hill, MD.

It may seem strange that I am writing so much about Rest Areas along US highways, but when you spend time on the road these places really make a difference.
I find it a hassle to start looking for Motels or Inns every time I feel a little sleepy while on the road, so these Rest Areas, that are reasonably spaced along all major roads across the US, are perfect.
Few Rest Areas have actual restrictions for how long one can stay, so stopping to take short naps during the day, or to sleep for a few hours at night, cause no problems.
coffee break on our way westwards…
The quality of the coffee you can buy at those vendor-machines at Rest Areas, may not be superb. But, when you are low on caffeine, the right mix (no sweeteners) actually tastes quite good.

As I see it: all that is missing on Rest Areas along the roads I have traveled, is a shower. All other basic needs we may have while on the road are met, and usually we found all instal­lations in well-working order.
being on vacation.
The journey itself is as much part of the destination(s) as anything, and after having spent more than two weeks going up and down the central and eastern parts of the US we have collected a lot of impressions.
When we finally came back to our place in Weeki Wachee, FL, we needed a few days "vacation from the vacation" – mainly some good, long, nights' sleep, which explains why it has taken me a few days to write down and serve up this posting.
The (over)load of impressions from the round-trip may also explain why this page may look a little "un­org­anised", as selecting the right ones out of more than a thousand pictures, and then write meaningful comments to and around them, is not the easiest thing in the world.

While I have taken such round-trips before, for my wife all of this was "a first" – and it is really confusing to her. So, as I prepare to lay out and write a few more pages with more detailed stuff related to this round-trip, I will also have to prepare some in Norwegian for her so she can remember and make sense of it all.

Think I'm gonna relax under that palmtree in my back yard for a while…
sincerely 
Hageland 02.may.2015
last rev: 30.nov.2017
---